Getting that naturally sunkissed glow without the sun can be tricky, especially for us pale folk. Self tanning products are a minefield and with so many formulations and colours guides to choose from, it can be almost impossible to understand what is right for your skin. Often it takes a little trial and error (and a few tanning mis-haps here and there) – but wouldn't it be great to skip the awkward orange stage and go straight to bronzed beauty every time?
To help you in your fair-skinned quest to a golden glow, we came up with our favourite tips, tricks and tanning techniques for the perfect finish, time after time. Selecting the right formula for your complexion is vital, as is the proper application to ensure you avoid embarrassing tell-tale streaks and uneven colouring.
For fair skin tones, tanning is tricky enough. Make sure you are exfoliating the skin and either waxing or shaving 24 hours prior to application for the most even of finishes. We suggest using a gentle exfoliator like the TANWORX Exfoliating Cream
to polish rough and dry areas of the skin. This effective exfoliator promises to refine and balance skin texture for radiant skin and a smooth base for your tan to glide on to.
When tanning a paler complexion it's important to know what formulas are going to work for your skin tone to ensure a flawless, golden finish rather than a shameful orange tinge. If you're new to tanning, we recommend sticking with a gradual tanning solution, like the LDN:Skins Gradual Tan Lotion in Light. Gradual solutions are so versatile, helping to break you in gently whilst getting used to seeing yourself glow. The light and subtle LDN:Skins solution allows you to build a colour to suit your skin tone over the course of a week.
Alternatively, if you're brave enough to take the plunge with a stronger formulation, ensure you patch test a small area of skin a few days before you tan your body. This allows you to see how the tan will react with a lighter skin tone, the finished result you will achieve and how it will work with your natural shade. We offer a colour option for light and fairer skin tones across all of the self tanning product in both our TANWORX and LDN:Skins ranges as well as medium and dark options, ensuring something to suit every skin tone and tanning preference.
Once you've picked your product, it's time for the most important part of the process – the application. Start by taking a hot bath or shower with some of your favourite MONUspa body products to cleanse the skin and remove all traces of dirt and dust. This process helps to ensure your skin is fresh and ready for the tan to be applied.
SELF TANNING FOR PALE SKIN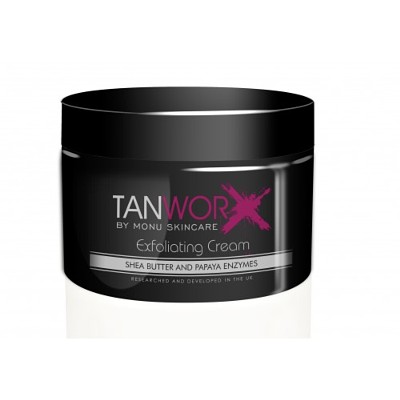 Once you have hopped out of the shower and thoroughly dried the skin, it's vital to apply a touch of moisturiser, such as TANWORX Professional Barrier Cream to dry areas of skin like knees and elbows to avoid the dreaded tell-tale tan build up! Finally, use your MONUTAN self tan mitt to apply your gradual tan, foam, lotion or liquid to the skin using light circular motions. All MONUTAN self tan formulations leave a guide colour on the skin, allowing you to see where the product has been applied and any areas you may have missed to ensure the most even and streak-free of finishes. Once you've applied your tan, wait at least 8 hours for your sunkissed glow to develop before washing off.
Finally, you have the natural looking summer glow you've always wanted – but it doesn't stop there! Maintaining your tan, with the use of handy moisturisers such as the TANWORX Tan Maintainer will ensure a colour that lasts longer and skin that feels smoother. The fresh and fragrant Tan Maintainer contains carotene to prolong your glow whilst restoring hydration and slowing down the skins natural exfoliation process for smoother, summer-ready pins! For added radiance, why not try the TANWORX Illuminating Moisturiser to add a subtle touch of glimmer whilst keeping skin smooth and supple.